All That Melts is Solid
Ian White on "The Pips" by Emily Wardill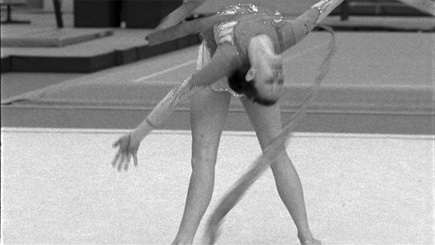 Take the ribbon from my hair, shake it loose and let it fall. Layin' soft against your skin, like the shadow on the wall … sings Gladys Knight and reading this is as if we can hear her clearly. But we cannot hear her. Not as such. Her imagined song becomes Emily Wardill's film as it becomes her words. As if in a silent karaoke, transformed into the film's title, her backing group The Pips have been replaced. Their silence, that of this work, is also hers, as if better to describe the song, or to replace that song with description itself, one that has no sound in order to be of the body, of flesh, as well as of the line drawn in time and space into which description also dissolves.
The ribbon from her hair is in the gymnast's hands. It carves out volumes, passageways, spirals that do not exist but that are as tangible as a body. It extends the body, its movements and the tiny flick of a wrist. Arcs and swift ripples. The body occupies the space it draws like another matter, runs to catch up to something that is immediately not there or has already collapsed to turn into something else. A chain of transitions from disarray to graphic shapes, as if to intimate articulation. The ribbon whips through time like a line, rips time up by slowing it down, almost floating in the air while the body moves quickly, arabesqued, curled, unfurled to catch it from a different world. Framed, the gymnast's body divides the picture, slowly, defies common physicality, is affected by its recording and the aftermath. The ribbon conjures, a psychotic and serene echo of the body's own contortion, two materials moving in two others – time and space – via perception and in the material of this work that also plays its tricks. And the gymnast's face betrays no strain, no lack of breath. Everything is plastic. A liquid-material drawing that leaves no mark, a sublime dismembering. Limbs remain and slip away. Falling apart is also becoming.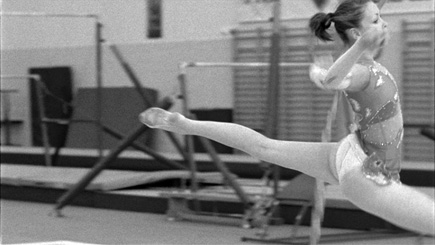 The Pips is a description for all descriptions, like the way a line becomes a shape that becomes a thing, or a word a mental picture like a projected object that is sometimes shared. It proposes that a line, a shape, a thing, a word or maybe just an image might also, always be about to collapse. That these are something temporal, actually elusive, conjured and gone, or become, dissolving, but also, still, form. Shaped, even. Of time, space, the mind and flesh interchangeably.
The ribbon is in the hands of the gymnast. She, and it, and their picture are both the object, the emblem and the very stuff of language and ideas. She melts in the name of everything we want to say. She melts for and because of herself, and for us and is also at rest, now, like a shadow on the wall.
Ian White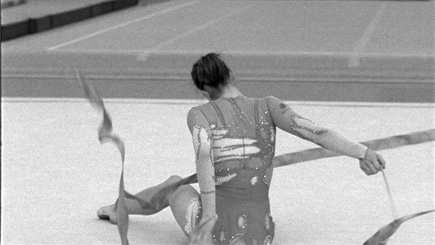 The Pips by Emily Wardill will be screened in the mixed programme ALTERED STATES alongside works by Neil Beloufa, Mary Helena Clark, Michael Robinson, Ben Russell and Deborah Stratman.
Link to more info on ALTERED STATES here
ALTERED STATES screenings :-
Saturday 22 October 2011, at 2pm, BFI Southbank NFT3
Tuesday 27 October 2011, at 3:45pm, BFI Southbank NFT3