American Falls is a single-channel triptych adaptation of an hour long, six-channel, 5.1-Surround installation commissioned by the Corcoran Gallery of Art in Washington, DC. It was inspired by a trip that I took to the capital at the invitation of the Corcoran in 1999, where I first encountered Frederick Church's great painting "Niagara"; took note of a multichannel video installation by Jennifer Steinkamp, projected onto the walls of the Corcoran rotunda; and went on walking tours of various monuments to the fallen throughout the DC area.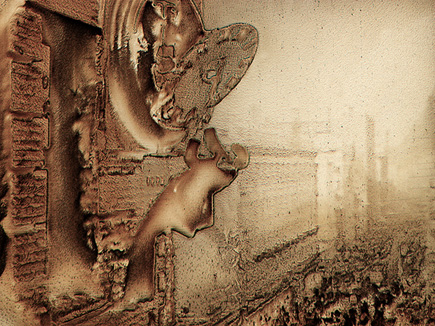 The architecture of the rotunda in the vicinity of "Niagara" invited me to muse on creating an all-enveloping, manmade "falls." I imagined my commission as something akin to a widescreen version of a WPA/Diego Rivera project at century's end, where the mediated images of the American Dream that I had been absorbing since childhood would flow together into the river with the roaring turbulence of America's failures to sustain the myths and ideals so deeply embedded in the received iconography. Emerging historical currents continuously break down and revert to their molten, primal forms and amber waves of pageantry, all eventually converging over the falls (in every sense of the term) as the great Unanswered Question posed by Charles Ives at the dawn of the last century echoes: Whither America?
American Falls is dedicated to Annie Edson Taylor and Jean Francois Gravelet (The Great Blondin). The first went over, the second walked above …
Phil Solomon
Link to more info on PHIL SOLOMON'S AMERICAN FALLS here
AMERICAN FALLS screenings :-
Sunday 23 October 2011, at 4pm, BFI Southbank NFT3
Tuesday 25 October 2011, at 4pm, BFI Southbank NFT3
Link to book tickets for PHIL SOLOMON'S AMERICAN FALLS here
American Falls (Opening Section) from Phil Solomon on Vimeo.
On his first ever visit to London, Phil Solomon will also present two screenings of his earlier 16mm films at Tate Modern on 24 & 27 October 2011.  Link to more info here.