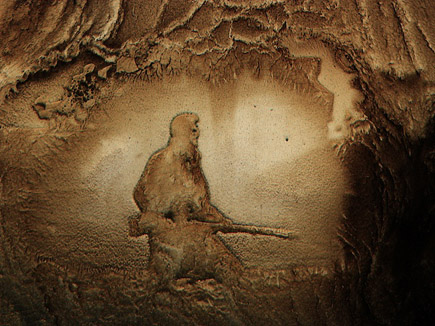 Sunday 23 October 2011, at 4pm, NFT3
'Should anyone imagine that the art of alchemy died with the Middle Ages, Phil Solomon's American Falls testifies to the contrary: both to the possibilities of photographic and digital transformation and to the magical emanations of their fusion.' (Tony Pipolo, Artforum)
American Falls
Phil Solomon | USA 2010 | 60 min
In his sublime 16mm films, Phil Solomon chemically alters photographic imagery to create a thick celluloid impasto that infuses footage with profound emotional resonance. For American Falls, Solomon rifles through a collective memory fashioned from both fact and fiction, mixing elements from newsreels, actualities and narrative films in a monumental retelling of American history which draws parallels with and reflects upon the current state of the nation. Houdini, Harold Lloyd, Keaton and King Kong commingle with presidents, gold-diggers, railroad barons and the civil rights movement. 'My project is ultimately one of great hope, stemming from a life-long love for this American experiment of ours … but it is also necessitated by my deepest concern for its present and future directions.' Originally conceived as a 360-degree installation around the walls of the Corcoran Gallery of Art's rotunda, the work has been reconfigured for the cinema as a panoramic view in triptych, with surround sound mix by composer Wrick Wolff.
What's Out Tonight Is Lost
Phil Solomon | USA 1983 | 8min
'The film began in response to an evaporating relationship, but gradually seeped outward to anticipate other imminent disappearing acts: youth, family, friends, time … I wanted the tonal shifts of the film's surface to act as a barometer of the changes in the emotional weather.' (PS)
Preserved by the Academy Film Archive, Los Angeles.
Mark Webber
Also screening:
Tuesday 25 October 2011, at 4pm, NFT3
Phil Solomon will present screenings of his earlier films at Tate Modern on 24 & 27 October.